Today's breakfast treat: a fresh Philly soft pretzel with low fat cream cheese. It would have been even better if I had taken the extra few moments to pop it in the toaster oven, but I couldn't wait.
***
I love the webcomic
xkcd
. This week it has featured strips based on one of the greatest television shows of all time,
Firefly
. Check it: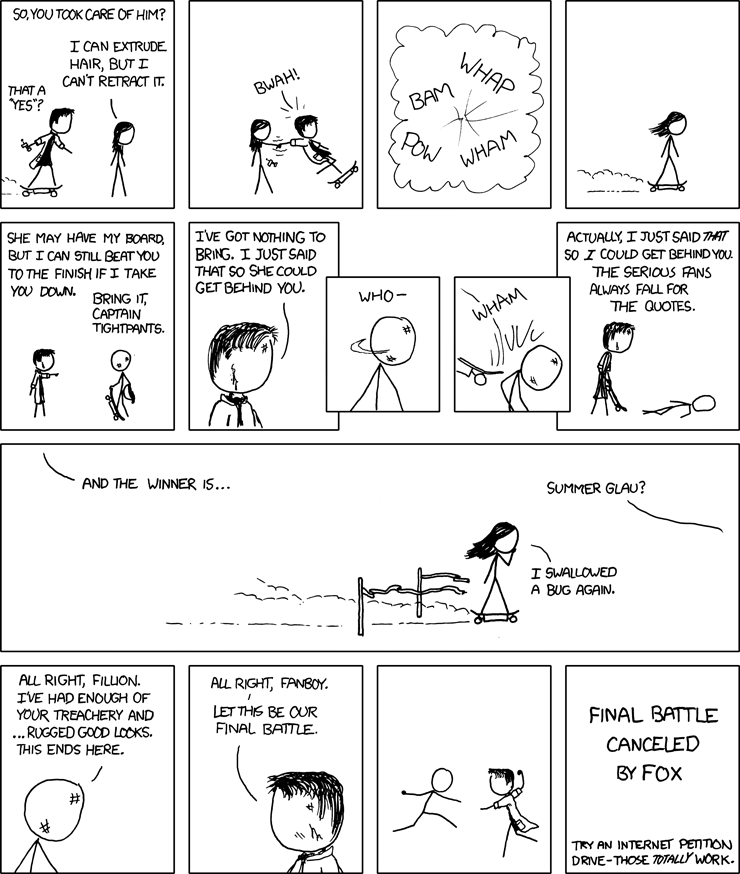 You probably don't get it. You should buy the show and watch it so you do get it. It's only 12 episodes long because Fox canceled it. Dumbasses. That show was brilliant. Joss Whedon can do no wrong.
***
I've been doing this
Year in Pictures
thing over on my flickr page. I'm taking one picture every day (except on the days that I forget). Mostly they suck because I don't take any time to think through what I want to accomplish and just use my DSLR like a gigantic point and shoot (except I keep it on aperture priority instead of auto--to pretend that I know what I'm doing). Sometimes they don't suck--I'll let you know when that happens. It's a learning experience. Today I will receive my 50mm lens, which will hopefully help me take better shots. Be prepared for macro shots of dog noses.
***
This weekend is the giant corporate suck waste of a holiday known as Mother's Day. Not to be confused with other corporate suck waste holidays such as Valentine's Day, Father's Day, and Administrative Professional's Day. Whatever. I generally despise days such as this one, but I still celebrate with my mom because I've learned that skipping it makes bad things happen in my life. I'll be making a trek to the wilds of New Jersey to visit her. My wonderful spouse is joining me, for which I am eternally grateful, as I hate driving long distances solo. I have yet to make my mom's gift. I need to get crackin'!
***
I'd like to send a personal thank you to the Sun for making an appearance today. Stick around for a while, please.